CURRENT OR UPCOMING
August 30, 2018, Performance: Improvisation with Invented Instruments, Austin, TX, North Door
September 7 – 9, 2018, Temporary Installation: "Reverse Plane of Cloudy", Austin, TX, MOHA
September 30, 2018, Performance: "NOPLACE", Asheville, NC, Black Mountain College
November 11, 2018, Temporary Installation: "Deliriums", San Antonio, TX, Luminaria
PAST
June 9, 2018, Installation: "Deliriums", Austin, Texas, Northern Southern
Sculpture, sound, music, and video
March 29, 2018, Artist Talk: "Scoring Sculpture", Champaign, Illinois, the University of Illinois at Urbana-Champaign
March 29, 2018, Workshop: "Bangbox", Champaign, Illinois, the University of Illinois at Urbana-Champaign
March 30, (evening) 2018, Performance: "Stepper Rattle and other Invented Instruments", Champaign, Illinois, The Outhouse,
March 3, 2018, Performance: "Noplace" (short version) Atmosphere, Austin, TX, Dadageek Student Showcase
March 8, 7 pm, 2018, Performance: "STEPPER RATTLE", Atlanta, Georgia, Georgia Tech Guthman Musical Instrument Competition
March 15, 2018, Performance: Improvisation with Steve Parker, O. Henry Museum, Austin, TX, SXSW
February 15th, 8 pm, 2018, Evans Hall, Performance: "NOPLACE", Connecticut College, The Ammerman Center for Arts and Technology 16th Biennial Symposium
February 10, 7 pm, Performance: "NOPLACE", Houston, Texas, Aurora Picture Show
I made some improvements to the traditional Christmas music that we all must hear over and over every year.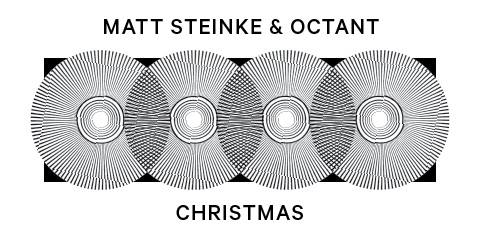 2 Performances Dec 15 and 16
– I am very excited for my upcoming residency at Signal Culture in Owego, NY from September 15 to September 29
– Teaching Intro To Robotic Art again at Dadageek this Fall, 2017
– A great conversation with Rob Ray and Taylor Hokanson on Opposable Thumbs Episode 9

–  Coming Soon! "NOPLACE", a multi-sensory musical score and performance using robotic instruments, lights, shadows, DIY projections, and found recordings for Fusebox 2017 at Big Medium, Austin, TX.
– Two upcoming workshops, "Scoring Sculpture", at The 2017 Fusebox Festival.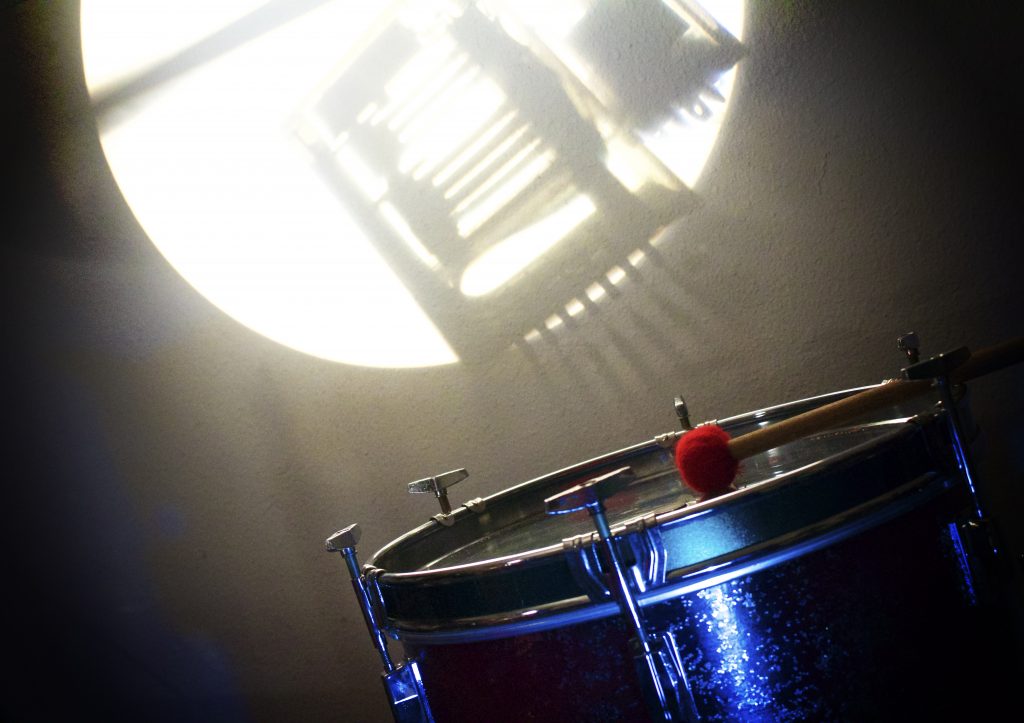 –  Putting together a robotic music workshop for this winter quarter for DADAGEEK popup school. Register HERE!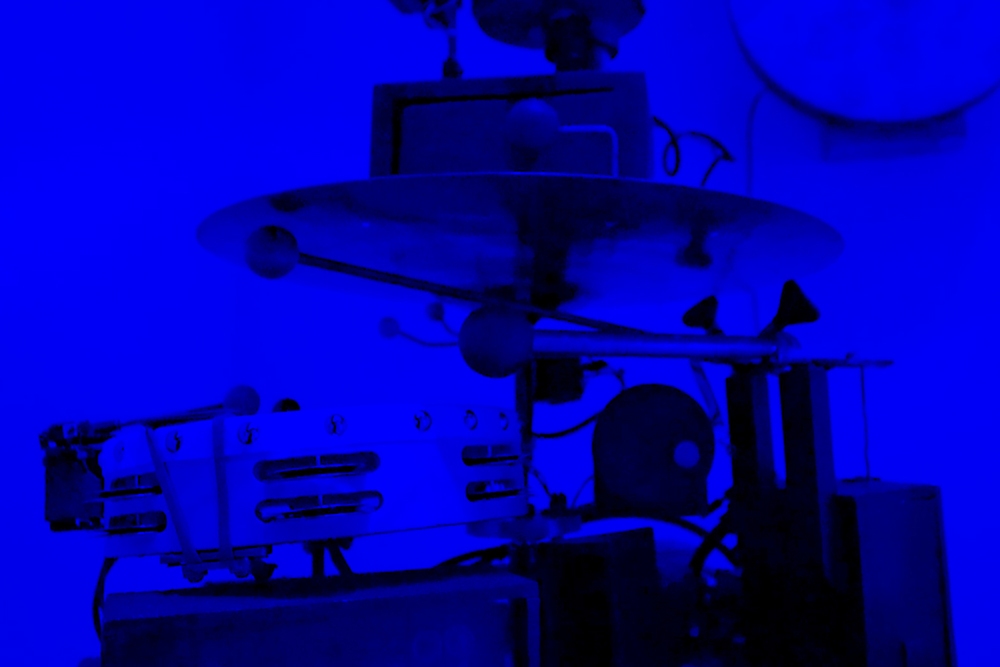 –  This year's Christmas concert #3, "The Stuttering Clock",  is at Colab Projects, Dec 23rd at 8pm. Facebook Invite.

– I was selected by Yesomi Umolu, Exhibitions Curator at the Reva and David Logan Center for the Arts at the University of Chicago as a finalist for the 2016 ArtPrize Time-Based Category!
– Showing "The Magnetosphere" at The Fed Gallery at Kendall College of Art and Design in Grand Rapids, Michigan – running August 30th to October 15th.
– Creating Music for Mechanized Trees and Shrubs at the Blanton SoundSpace September 25th.
– Working on a performance with AMODA consisting of live video mapping and robotic percussion – August 26th at The Off Center
– I will be performing "In C" by Terry Riley with Zac Trager and Thor & Friends for "I Am Sitting In A Room: A Night of Minimalism" on May 28th at The Museum of Human Achievement which have the best installations and gardens. Horse Lords are also playing. Its going to be a really fun night!
– I will be performing at Northern Southern as part of Warm Ashes.
Friday
April 22, 2016
9 pm
– I will performing improvised solo works at The Spiderhouse Ballroom on April 20th @ 10:45 sharp – the full BotParty show runs from 8 – 12.
Spiderhouse Ballroom
2908 Fruth St, Austin, TX 78705
– My upcoming installation, "The Magnetosphere" will be featured at the 2016 FUSEBOX FESTIVAL
Opening Wednesday April 6th, 2016 – Sunday April 10th, 2016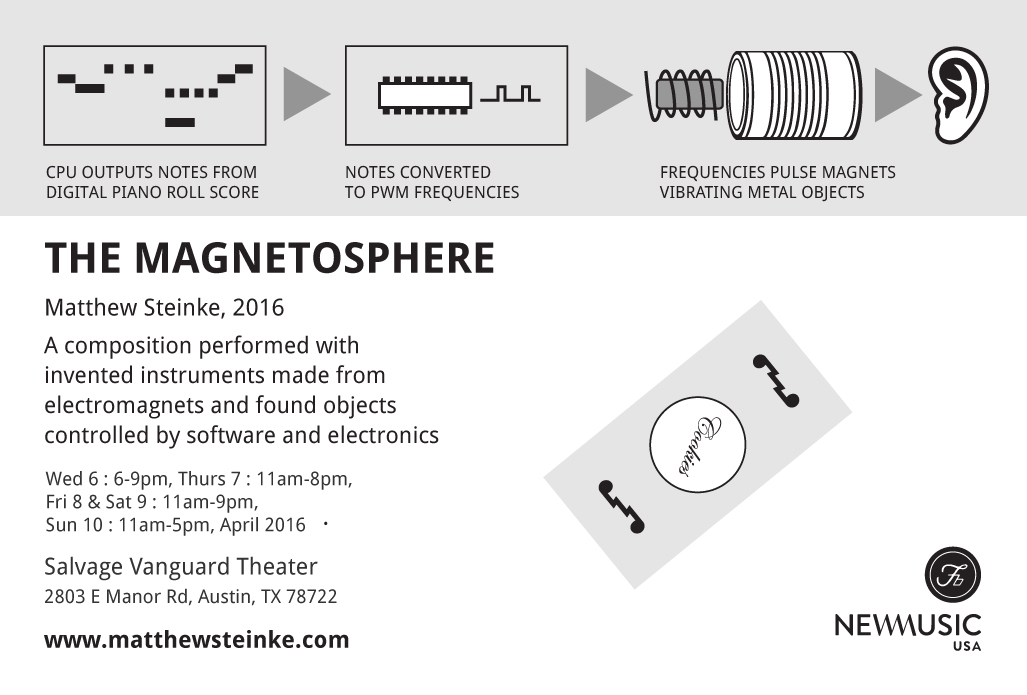 Phase 1 of a work-in-progress. The full version will be featured at The Fusebox Time Arts Festival 2016.
– I will be performing at Northern Southern for the Blue Flames performance festival.
Saturday
March 26, 2016
3 pm
– I will be performing a solo piece entitled "My Cubical" at the Blanton Museum as part of the SOUNDSPACE SERIES
Sunday, February 28, 2016 | 2:00 PM – 4:00 PM
– Steve Parker and I performed on KUTX. Steve Parker on trombone and conch shell and myself on electric lamellophone and robotic instruments
LISTEN HERE