CURRENT OR UPCOMING
January 13 – February 17, 2018, I will be teaching Raspberry Pi: Interactive Video and Sound with Processing and Pure Data, sign up here
PAST
November 4, 2018, Temporary Installation: "Deliriums", Austin, TX, Blanton Soundspace Series
November 11, 2018, Temporary Installation: "Deliriums", San Antonio, TX, Luminaria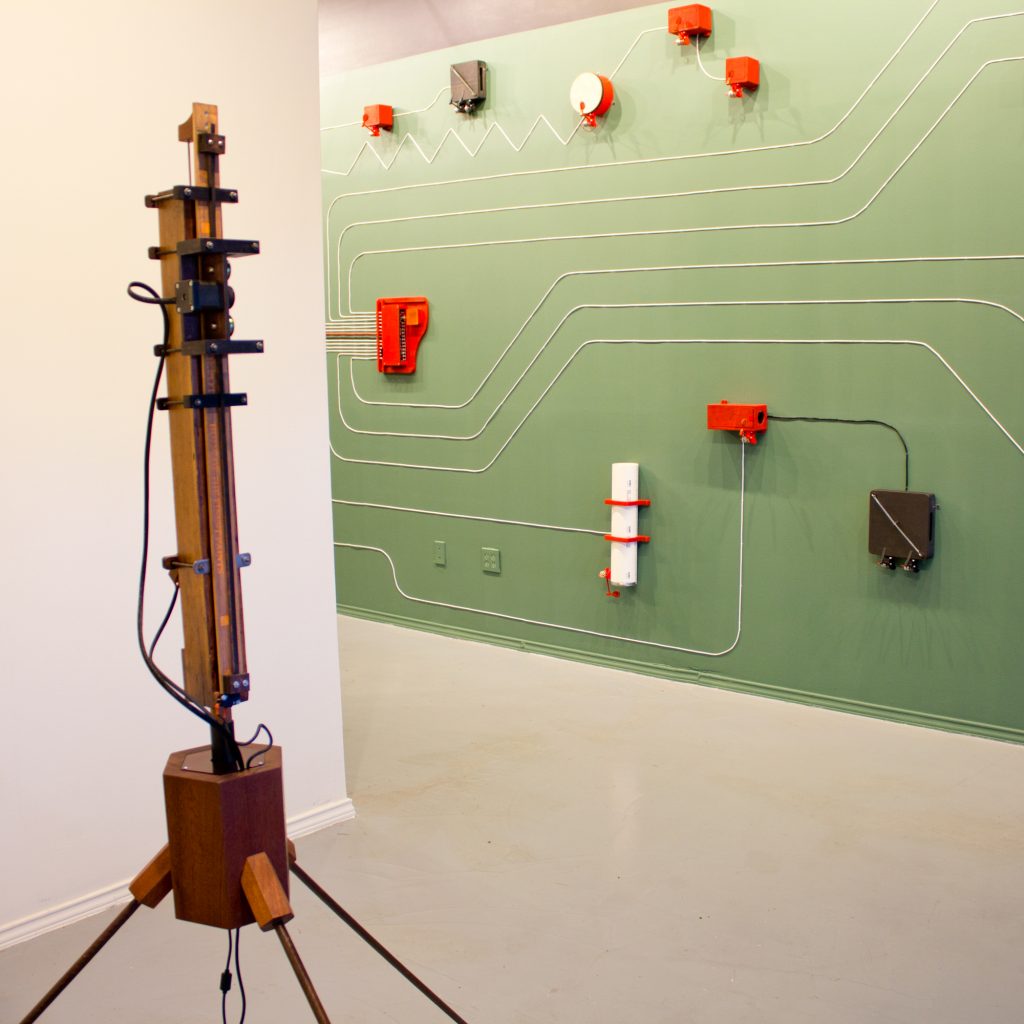 September 30, 2018, Performance: "NOPLACE", Asheville, NC, Black Mountain College
September 7 – 9, 2018, Temporary Installation: "Reverse Plane of Cloudy", Austin, TX, MOHA
Sept 7, 6 pm – 11 pm
Sept 8, 3:30 pm – 7:30 pm
Sept 9, 4 pm – 7 pm
REVERSE PLANE OF CLOUDY: The re-animated subconscious of Lieutenant Ray Mallory.
Based on encounters with a brilliant, unknown inventor and VCR repairman, Ray Mallory, lead artist Matthew Steinke synthesizes the musical inventions and hacked appliances that filled Ray's living room in the late 1990s. Ray was terminally ill and is no longer with us, but Steinke imagines that his subconscious endures as a fractured narrative in an infinite loop. Taking the form of electricity, code, and radio transmissions, it re-enacts experiences by scrubbing memories, replaying conversations, dreaming new landscapes, trying to fix its own bugs, and continually searching for Ray's life partner, Honey Wells, who passed away five years before him.
This temporary installation uses software, video, sound, and music to animate machine bodies in a physical space. These bodies include robotic musical instruments, kinetic sculptures, and automated appliances. Artists working with ephemera such as music, video, sound, smell, and performance have been invited to collaboratively develop segments of an operatic narrative that is performed by these objects.
Artists
Thomas Echols – Austin
Bryce Kassen – Cologne
Jesse Peterson – LA
Joshua Pablo Rosenstock – Boston
Katie Wood – Chicago
Kay HE (Yuanyuan) – Austin/Tucson
Lead Artist
Matthew Steinke – Austin
August 30, 2018, Performance: Improvisation with Invented Instruments, Austin, TX, North Door
June 9, 2018, Installation: "Deliriums", Austin, Texas, Northern Southern
Sculpture, sound, music, and video
March 29, 2018, Artist Talk: "Scoring Sculpture", Champaign, Illinois, the University of Illinois at Urbana-Champaign
March 29, 2018, Workshop: "Bangbox", Champaign, Illinois, the University of Illinois at Urbana-Champaign
March 30, (evening) 2018, Performance: "Stepper Rattle and other Invented Instruments", Champaign, Illinois, The Outhouse,
March 3, 2018, Performance: "Noplace" (short version) Atmosphere, Austin, TX, Dadageek Student Showcase
March 8, 7 pm, 2018, Performance: "STEPPER RATTLE", Atlanta, Georgia, Georgia Tech Guthman Musical Instrument Competition
March 15, 2018, Performance: Improvisation with Steve Parker, O. Henry Museum, Austin, TX, SXSW
February 15th, 8 pm, 2018, Evans Hall, Performance: "NOPLACE", Connecticut College, The Ammerman Center for Arts and Technology 16th Biennial Symposium
February 10, 7 pm, Performance: "NOPLACE", Houston, Texas, Aurora Picture Show
I made some improvements to the traditional Christmas music that we all must hear over and over every year. 2 Performances Dec 15 and 16
I am very excited for my upcoming residency at Signal Culture in Owego, NY from September 15 to September 29
Teaching Intro To Robotic Art again at Dadageek this Fall, 2017
A great conversation with Rob Ray and Taylor Hokanson on Opposable Thumbs Episode 9
Two upcoming workshops, "Scoring Sculpture", at The 2017 Fusebox Festival.
A robotic music workshop for DADAGEEK popup school. Register HERE!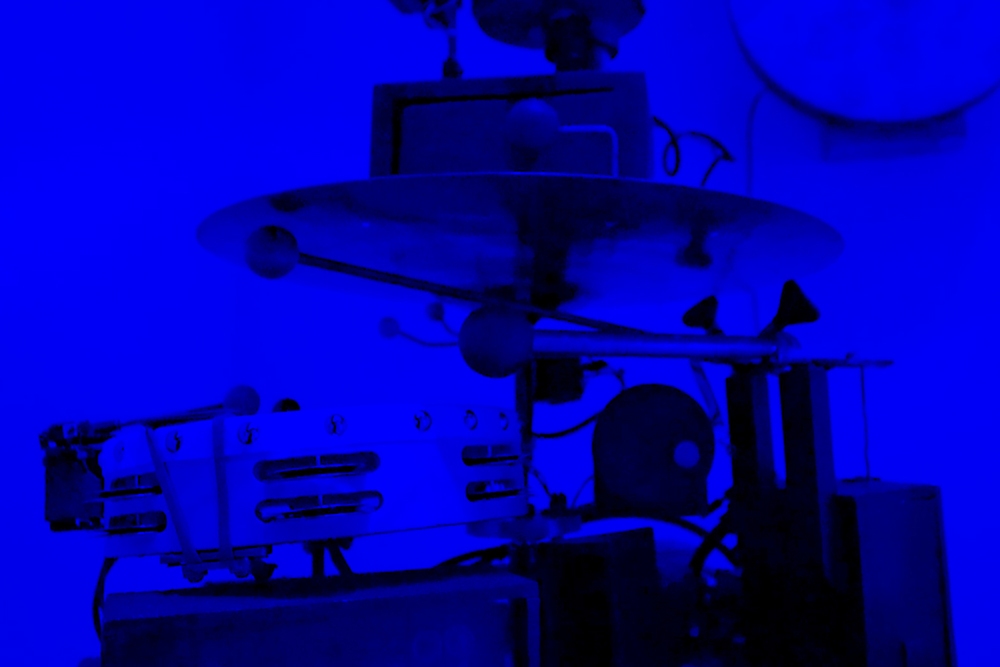 This year's Christmas concert #3, "The Stuttering Clock",  is at Colab Projects, Dec 23rd at 8 pm. Facebook Invite.
I was selected by Yesomi Umolu, Exhibitions Curator at the Reva and David Logan Center for the Arts at the University of Chicago as a finalist for the 2016 ArtPrize Time-Based Category!
Showing "The Magnetosphere" at The Fed Gallery at Kendall College of Art and Design in Grand Rapids, Michigan – running August 30th to October 15th.
Creating Music for Mechanized Trees and Shrubs at the Blanton SoundSpace September 25th.
Working on a performance with AMODA consisting of live video mapping and robotic percussion – August 26th at The Off Center
I will be performing "In C" by Terry Riley with Zac Trager and Thor & Friends for "I Am Sitting In A Room: A Night of Minimalism" on May 28th at The Museum of Human Achievement which have the best installations and gardens. Horse Lords are also playing. Its going to be a really fun night!
I will be performing at Northern Southern as part of Warm Ashes.
I will be performing improvised solo works at The Spiderhouse Ballroom on April 20th @ 10:45 sharp – the full BotParty show runs from 8 – 12.
Spiderhouse Ballroom
2908 Fruth St, Austin, TX 78705
My upcoming installation, "The Magnetosphere" will be featured at the 2016 FUSEBOX FESTIVAL
Opening Wednesday, April 6th, 2016 – Sunday, April 10th, 2016
I will be performing at Northern Southern for the Blue Flames performance festival.
Saturday
March 26, 2016
3 pm
I will be performing a solo piece entitled "My Cubical" at the Blanton Museum as part of the SOUNDSPACE SERIES
Sunday, February 28, 2016 | 2:00 PM – 4:00 PM
Steve Parker and I performed on KUTX. Steve Parker on trombone and conch shell and myself on electric lamellophone and robotic instruments
LISTEN HERE