–  Help support future works and research!
NEWS:
UPCOMING
– Showing "The Magnetosphere" at The Fed Gallery at Kendall College of Art and Design in Grand Rapids, Michigan – running August 30th to October 15th.
– Creating Music for Mechanized Trees and Shrubs at the Blanton SoundSpace September 25th.
PAST
– Working on a performance with AMODA consisting of live video mapping and robotic percussion – August 26th at The Off Center
– I will be performing "In C" by Terry Riley with Zac Trager and Thor & Friends for "I Am Sitting In A Room: A Night of Minimalism" on May 28th at The Museum of Human Achievement. Horse Lords are also playing. Its going to be a really fun night!
– I will be performing at Northern Southern as part of Warm Ashes.
Friday
April 22, 2016
9 pm
– I will performing improvised solo works at The Spiderhouse Ballroom on April 20th @ 10:45 sharp – the full BotParty show runs from 8 – 12.
Spiderhouse Ballroom
2908 Fruth St, Austin, TX 78705
– My upcoming installation, "The Magnetosphere" will be featured at the 2016 FUSEBOX FESTIVAL
Opening Wednesday April 6th, 2016 – Sunday April 10th, 2016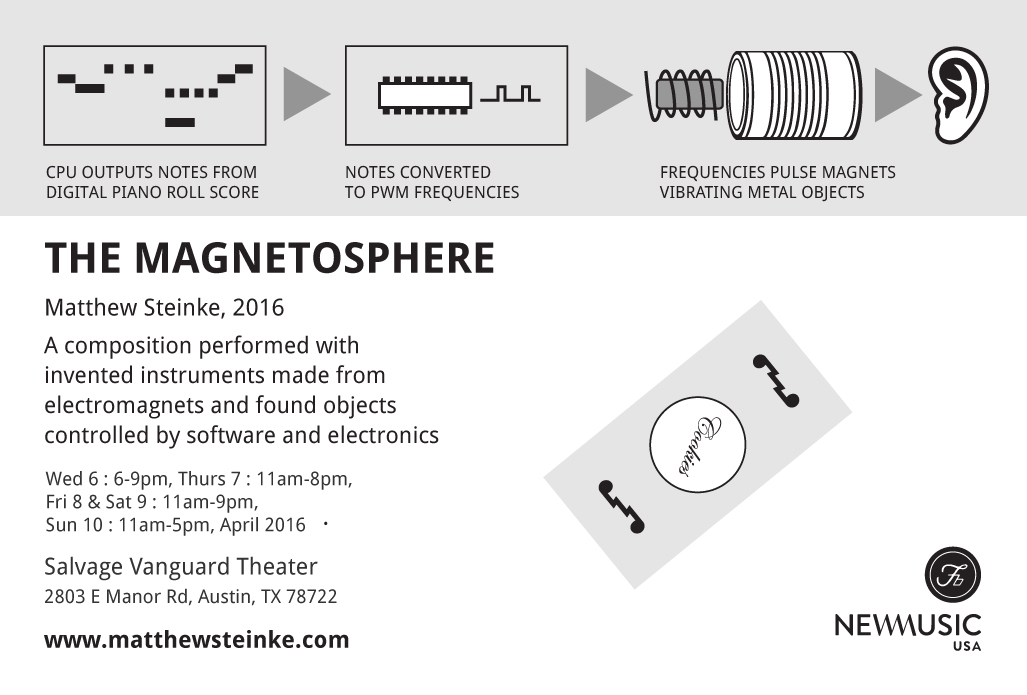 Phase 1 of a work-in-progress. The full version will be featured at The Fusebox Time Arts Festival 2016.
– I will be performing at Northern Southern for the Blue Flames performance festival.
Saturday
March 26, 2016
3 pm
– I will performing a solo piece entitled "My Cubical" at the Blanton Museum as part of the SOUNDSPACE SERIES
Sunday, February 28, 2016 | 2:00 PM – 4:00 PM
– Steve Parker and I performed on KUTX. Steve Parker on trombone and conch shell and myself on electric lamellophone and robotic instruments
LISTEN HERE