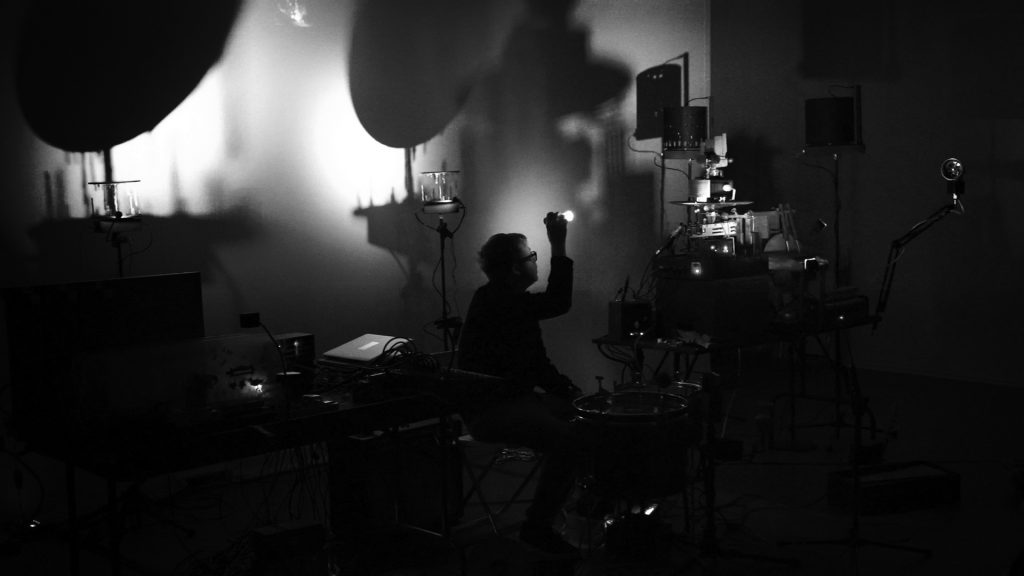 Matthew Steinke [b. 1972] is an American artist and composer. His work explores the "inner voices" of objects portraying the construction of their identities through the intersection of text, sound, video, installation, sculpture, performance, code, electronics, and robotics. Attached to each construct is a background narrative, a continuously running monolog, part of a larger layered collective allegory.
As an object-maker, Steinke tries to view all materials equally and uses them to suit the purpose of an end goal. He works with found, hand-made, and digitally fabricated materials but maintains a personalized DIY aesthetic. Even with his most organized or designed works, one could discover artifacts of repurposed objects like rulers, pill bottles, cat litter containers, obsolete electronic components, or metal tins. The unbiased approach extends to the media and found text that he incorporates into his audio and video work.
Although his practice utilizes technology, it is not interactive. It is "inductive" and is intended to act upon and change the spectator. Steinke uses induction to promote an experience of transition, a back and forth between knowing and unknowing, a singular hyperawareness to "cosmic schizophrenia". He looks to pre-enlightenment religious, occult, and alchemic practices who's participants had very little agency but sought spiritual, intellectual, technological, or political power by embracing lost, secret, or divine knowledge. He relates these manipulations to contemporary self-help literature, pop psychology, hypnosis, op art, kinetic art, experimental music, experimental media, the avant-garde, utopianism, psychedelia, technophilia, hacking, artificial intelligence, survivalism, punk ethos, counter-culture, and DIY culture.
Steinke seeks out and exploits the confusion around consciousness, health, class, ecology, gender, and morality. In his recent installation, "Deliriums", he presents robotic musical instruments that reflect personality disorders described in the often ambiguous Diagnostic Statistical Manual of Mental Disorders (DSM). This piece portrays human emotional experiences through the combined use of sculpture, sound, and video. The sound-producing objects each reflect one of the three clusters of personality types described in the manual which include Cluster A (odd, eccentric), Cluster B (dramatic erratic), Cluster C (anxious, fearful). The robotic musical instruments perform scores to recorded monologs of anonymous individuals diagnosed with personality disorders as synced animations illustrate the imaginations of these "virtual souls".
Over the past two decades, Steinke's robotic installations and performances have been presented in museums, galleries, and festivals across the U.S., Canada, and Europe. He holds an MFA in Art and Technology Studies from The School of the Art Institute of Chicago. Upon graduation, he received The Illinois Arts Council Fellowship for Interdisciplinary/Computer Art. He was a juror's finalist and Seed Grant recipient for ArtPrize 2016 and a 2015 New Music USA Project Grant recipient. He received an award at the 2018 Margaret Guthman Musical Instrument Competition for his "Stepper Rattle" instrument. His work has been featured in Wired, Artweek LA, The Village Voice, The San Francisco Bay Guardian, Hackaday, and on the cover of Tape Op.
Steinke teaches classes and workshops in Creative Coding, Robotic Art, Musical Instrument Design, Experimental Animation, Video Installation, Sound Installation, Sound Design, Interactive Design, Software Design, and Electronics.
Selected Press/Reviews
Sitelines: Reverse Plane of Cloudy
The Austin Chronicle Arts: Deliriums
The Austin Chronicle Music: Deliriums
Creative Capitol On Our Radar: Flood
Artweek LA: Matthew Steinke: Octant
The Civilians: Noplace
Hackaday: The Tine Organ
Theremin World: Octant
Mailing List