Noplace
2017 NIME Festival in Copenhagen
Rustling
2017 SoundSpace – The Blanton Museum of Art
Matthew Steinke: Robotics and shrubbery
Rosalyn Nasky: Movement
My Cubical
2016 SoundSpace – The Blanton Museum of Art
Matthew Steinke: Robotics, Harmonic Guitar, eGuitar, Percussion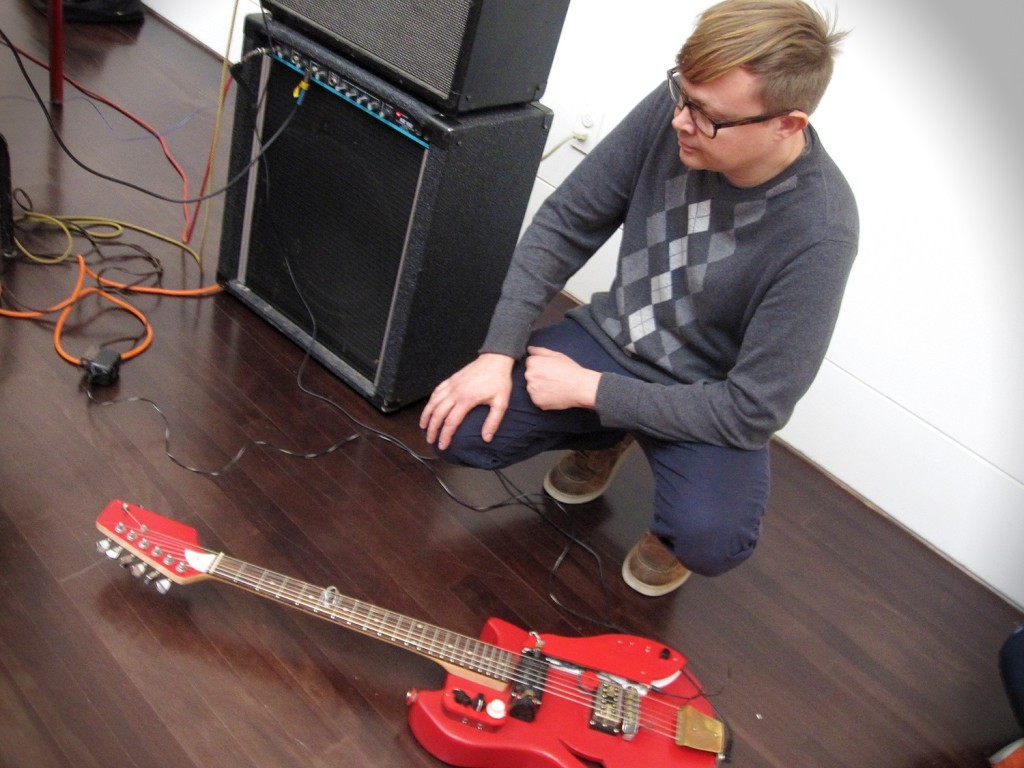 Live on KUTX
2016
Improvisations and Variation of "In C" by Terri Riley and "Workers Union" by Louis Andriessen
Steve Parker Trombone and Conch Shell
Matthew Steinke: Robotics and Electric Lamellophone
Video of in "In C" variation below.
Gesualdo Madrigal Variation
2015 Church of the Friendly Ghost – Vanguard Theater
Steve Parker: Trombone
Matthew Steinke: Robotics
Prince Carlo Gesualdo (1566 – 1613) was an insane murderer by all accounts even his own. As a composer, he wrote breathtakingly (no pun intended) well-crafted heartfelt madrigals unlike any from or before his time. As a noble, he had several musicians on hand to perform his difficult compositions. As his music was made by and for himself only, he did not have a patron who would have dictated his musical style. This freed him to explore the depths of the now modern practice of expressionism within his own vacuum years before anyone had an audience to articulate it to. His work incorporated chromatic harmonies combined with traditional choral phrasing, a unique blend of the avant-garde and the Renaissance. After his death in 1613, this chromaticism was not heard again until the likes of modern composers like Wagner or Schoenberg.
This performance revisits one of his challenging four-part madrigals re-voiced for robotic harmonium, robotic melodica, membrane cello, and trombone. We also incorporated glockenspiel, toy piano, and percussion.
The Stuttering Clock
2015, Excerpt, Northern Southern, Austin, TX
Felicia Rains: Piano
Mars Wright: Vocals and Loop Sampler
Matthew Steinke: Percussion and Robotics
The Stuttering Clock explores the enigmatic and otherworldly components of the Christmas story in a thirty-minute performance of new music with references to Bach, Handel, and traditional themes. Played by an ensemble of hand-built robotic musical instruments, this "re-arrangement" follows the Christmas mystery from the point of view of the virgin mother Mary visited by angels while awaiting the unknown outcome of her immaculately conceived super-human child.
Mechanical Memories
2014 Avante Gardens, Houston, TX
This performance with eGuitar and robotic ensemble incorporates mechanical memory devices such as a disc playing music box, percussion, toy piano, and harmonium controlled by a laptop. My role involves mediating the mechanical melodies and percussion cycles by improvising harmonies on the guitar and mixing the instruments in the ensemble in and out. The guitar has built-in drivers to make the strings drone automatically. It is also triggering sounds wirelessly in the software.

The Stringboard
2003, Chicago, IL SAIC
Performance with prepared string instrument, modified toy box, and algorithmic sampler device
Mockaoke
2003 Chicago, IL, Pack Edge Sound Festival
For the Pack Edge Festival, I improvised with this hybrid percussion robot which has an integrated sampler and an embedded microprocessor. Audio is sampled at the input, cut up, and then mapped to programmed algorithmic rhythms in the firmware. These generated rhythms are then augmented by synched acoustic percussion. I am playing a cassette tape player with its lid removed and its output feed into the input of Mockaoke. I am pushing the play button in and out and manipulating the speed and pitch of the recording by pushing on the tape player's capstan while it plays back.